Conference Location
The BPA 2018 conference will be held 6-8th November 2018 at the South Australian Health and Medical Research Institute (SAHMRI) in Adelaide, South Australia. SAHMRI is centrally placed within the heart of Adelaide's biomedical precinct. It is situated next to the University of Adelaide's Medical and Health Sciences (AHMS) building, University of SA's Centre for Cancer Biology building and the Royal Adelaide Hospital (RAH). Please see maps below or click here.
Conference Details
Conference Registration – is now open.
Symposium proposals – are now closed.
Oral/ poster sessions abstracts – are now closed.
Date for abstract outcomes: TBA
Welcome to Adelaide
Adelaide can boast a vibrant pop-up bar scene that fills its laneways. The city is renowned for being home to world-class chefs and a unique dining experience with different boroughs to experience throughout the city's centre (Gilbert Place, Leigh Street and Peel St to name a few). All of these venues and more are all highly accessible within the CBD. For a beachside experience choose our historic Glenelg which only is 12km from the CBD and a 20 minute tram ride. Glenelg's Moseley square is filled with shopping and dining outlets to compliment your beachside experience.
Forty minutes in either direction from the CBD and you'll hit one of three major wine regions, from the South's McClaren Vale that boasts the quirky boutique winery Alpha Box and Dice, the Adelaide Hills wine regions that are home to world-class Penfold's winery, and the Barossa valley which houses over 150 different wineries on its own.
For sporting enthusiasts, visit the recently renovated Adelaide Oval which has been home to many historic cricket matches all the way since Sir Donald Bradman's time. The sporting ground not only hosts up to 50,000 spectators for our nation's cricket and AFL matches, but also gives its visitors an opportunity to scale its structure for the ultimate views of Adelaide even at night time.
For more information visit our local tourism website.
Getting Around Adelaide and to the SAHMRI Auditorium
SAHMRI is located in the Adelaide CBD and is approximately 15 minutes north of the Adelaide Airport, accessible by taxi, Uber or shuttle bus (see transport options here).
Adelaide CBD is serviced by taxis, trams and buses. Most attractions in the CBD are within walking distance of each other.
If you are in Adelaide only for the duration of the conference, an Adelaide Metro Visitor Pass may be ideal. The pass includes unlimited travel for three consecutive days as well as a visitor pack with maps and travel guides. If you're staying longer, no problems – the Visitor Pass can be recharged with normal Metrocard fares to help you get to where you want to go. For more information, visit the Adelaide Metro website.
You can travel around the Adelaide city centre for FREE on the tram between the Adelaide Entertainment Centre and South Terrace, or take the 99C bus which is the City clockwise loop and makes stops at Rundle Mall, the South Australian Museum and Adelaide Central Market.
The free City Connector Bus is a convenient link between the major facilities within North Adelaide and Adelaide city centre including universities, community services and shopping precincts. The bus service operates seven days a week (except public holidays).
There are a number of supervised taxi ranks that provide a safe place to wait for a taxi after a night out. On Friday and Saturday nights between 11pm and 4.30am these ranks are staffed with a concierge and a security officer. They are located at:
North Terrace, entrance to the Adelaide Casino.
Corner of Hindley Street and Morphett Street.
Pulteney Street, near entrance to Rundle Mall.
King William Street near entrance to Rundle Mall.
Colley Terrace, Glenelg (near Moseley Square).
Conference Accommodation
Here is a list of hotels in the area.
We have secured a 12% discount off the Oaks Horizons best available online rate and 15% off the iStay Precinct best available online rate, subject to availability.
BPA Conference Social Events
This year BPA LOC will be hosting two social events in Adelaide.
A pre-conference cocktail welcome event is planned for Tuesday the 6th of November from 5-9pm in the SAHMRI Auditorium.
The main social event will be held as a canapes dinner with live band on Wednesday the 7th of November from 6-11pm in the John Halbert Room of the Adelaide Oval.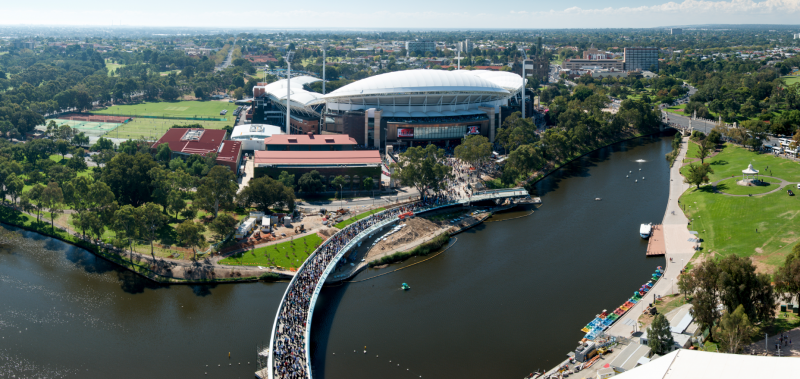 Parking near SAHMRI
On-street parking is subject to availability and there are limited spaces for time limits between 1-2 hours near the SAHMRI building on North terrace and adjacent Hindley street.
Paid, under cover parking is available at:
Secure Parking 124/126 Hindley St
Wilson Parking 189-207 Hindley St
Maps
Please click here for maps of the CBD and local area around SAHMRI including roadside parking restrictions.