The Isaac Schweitzer Lecture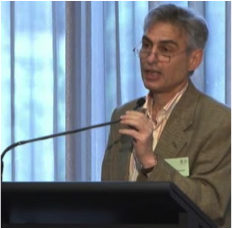 Professor Isaac Schweitzer was a leading Australian psychiatrist with a worldwide reputation in the field of biological psychiatry who died unexpectedly on the 1st February 2013. Affectionately known by all as Issy, Professor Schweitzer graduated in medicine from the University of Melbourne in 1973, completing his diploma in psychological medicine in 1978, and trained in psychiatry at the Royal Melbourne Hospital and the Parkville Psychiatric Unit where Professor Brian Davies was the first Cato Professor of Psychiatry. As a young psychiatrist, Professor Schweitzer choose to continue his training at St Thomas' Hospital, London and then as a Consultation Liaison Psychiatry Fellow at Montefiore Medical Centre, Albert Einstein College of Medicine, New York. In 1982 Professor Schweitzer was honoured by being awarded the esteemed Milton Rosenbaum prize in psychiatry. There followed many subsequent awards and invitations to speak in Australia and overseas; a highlight being the delivery of the Beattie Smith Lecture in 2006 – the highest honour that the University of Melbourne can bestows on leaders in the field of psychiatry.
Returning to Australia, Professor Schweitzer completed his Medical Degree by completing an extensive body of research on the role of cortisol and stress response in depression. Since that time Professor Schweitzer has published extensively whilst always retaining a core interest in the effectiveness and efficacy of pharmacological treatments of mood disorders. These interests included several randomised clinical trials investigating the potential of nutrition and complementary medicines in the treatment of a range of psychiatric disorders. In addition, Professor Schweitzer showed leader in research on the sophisticated use of electroconvulsive therapy and was a thought leader in determining the usefulness of brain-imaging and genetics as tools for predicting response to medication. In 1995 Professor Schweitzer established a research unit at the Melbourne Clinic where, in 2000, he was appointment to the Healthscope Chair of Psychiatry and Medical Director of the Clinic in 2001. Under his leadership, the Research Unit at Melbourne Clinic has evolved into a world-class teaching and research facility.
Importantly, Professor Schweitzer was chairman of the Australasian Society of Biological Psychiatry for 10 years and has held the offices of Associate Secretary Treasurer and Vice-president of the World Federation of Societies of Biological Psychiatry. In these roles Professor Schweitzer helped foster the development of the discipline of biological psychiatry in Australia and represented that discipline on the World stage. In recognition of this service to the discipline of biological psychiatry in Australia the Executive Committee of Biological Psychiatry Australia decided to name one of the two plenary lectures presented at the Society's annual scientific meeting as the Isaac Schweitzer Lecture.
This award is decided at the discretion of the executive committee. If you would like to suggest someone for consideration, please email biolpsychaust@gmail.com.
Past lecturers
2013 – Michael Berk, Deakin University
2014 – Paul Fitzgerald, Monash Alfred Centre for Psychiatric Research
2015 – John McGrath, Queensland Centre for Mental Health Research & Queensland Brain Institute, The University of Queensland
2016 – Cyndi Shannon Weickert, Neuroscience Research Australia
2017 – Patricia Michie, University of Newcastle
2018 – Christos Pantelis, University of Melbourne
2019 – Brian Dean, Florey Institute of Neuroscience & Mental Health
2020 – Susan Rossell, Swinburne University
2021 – Anthony Hannan, Florey Institute of Neuroscience & Mental Health
2022 – Jayashri Kulkarni, Monash University