Sir Aubrey Julian Lewis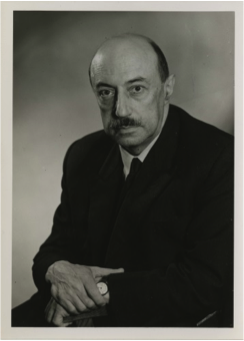 Aubrey Lewis (8 November 1900- 21 January 1975) was the first Professor of Psychiatry at the Institute of Psychiatry, London, and is recognised as being a driving force behind the flowering of British psychiatry after World War II. Aubrey Julian Lewis was born in Adelaide and was educated at Christian Brothers College. He went on to study medicine at the University of Adelaide and graduated with distinction in 1923 (M.B., B.S.).
Aubrey Lewis first worked at the Royal Adelaide Hospital but in 1926 he accepted a Rockefeller Foundation fellowship in psychological medicine. The Rockefeller Fellowship allowed Aubrey Lewis to study at the Phipps Clinic under the mentorship of Adolf Meyer. After postgraduate study in the USA and Germany, Aubrey Lewis joined the staff of the Maudsley Hospitalin 1928 receiving his M.D. from the University of Adelaide in 1931. In 1936 Aubrey Lewis became Clinical Director of the hospital and in 1938 became a fellow of the Royal College of Physicians.
In 1946 the Maudsley Hospital was designated the Institute of Psychiatry the governance of which fell within the University of London and Lewis was appointed to the inaugural Chair of Psychiatry at the Institute, a position he held until his retirement in 1966. Aubrey Lewis became recognised as a leader, educator and administrator and is credited with moulding the Institute into a model of scientific research and teaching attracting many of the most promising medical graduates from around the world. He is also credited with raising the profile of psychiatry worldwide, through his work as an adviser to general medical bodies, national and international research councils, and political organizations.
Each year, an outstanding early- to mid-career researcher is selected to give a lecture in his honour.
Applications for the Aubrey Lewis Award are open – see here for more details.
Nominations will close Friday 31 March 2023, 5pm AEDT.
Past awardees
2010 – Mark Bellgrove, Queensland Brain Institute
2011 – Melissa Green, University of New South Wales
2012 – Andrea Gogos, Florey Institute of Neuroscience and Mental Health
2013 – Michael Breakspear, Queensland Institute for Medical Research
2014 – Adam Guastella, The University of Sydney
2015 – Irina Voineagu, The University of New South Wales
2016 – Andrew Zalesky, The University of Melbourne
2017 – Jee Kim, Florey Institute of Neuroscience and Mental Health
2018 – Rachel Hill, Monash University
2019 – Marta Garrido, The University of Melbourne
2020 – Bronwyn Graham, The University of New South Wales
2021 – Lianne Schmaal, The University of Melbourne
2022 – Robyn Brown, The University of Melbourne